Our founder and executive director, Daisi Omokungbe, has been selected to join a 10-member Anglophone Africa Accountability Hub by Kofi Annan and Westminster Foundation, the Oslo Center and the European Partnership for Democracy (EPD).
The Accountability Hub is a part of the implementation of the third pillar of the European Union (EU) funded 'Women and Youth in Democracy' (WYDE) project aimed at improving inclusion in democracy and decision-making.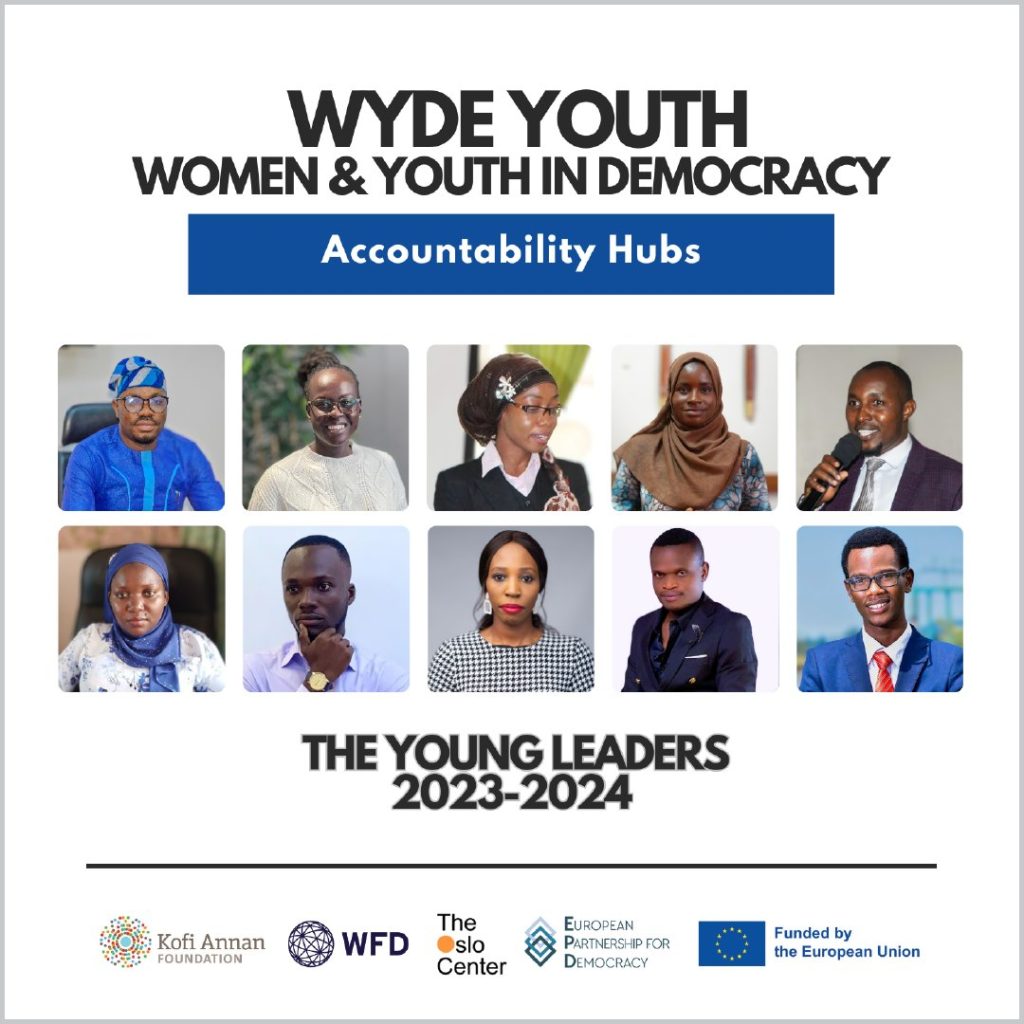 Omokungbe who was nominated by Civic Hive was selected in a highly competitive process from more than 700 nominations of inspiring young leaders in sub-Saharan Africa.
According to Kofi Annan Foundation's official announcement, "20 young leaders working together to develop innovative solutions to bring more accountability to democratic governance" make up the English and French accountability hubs.
"WYDE Youth Accountability Hubs brings together young leaders from Sub-Saharan Africa in a comprehensive training and networking programme, to enhance their skills in ethical and democratic leadership, project management, advocacy and communications, and develop pilot actions to put their project ideas into practice with dedicated seed grants.
"The young leaders are brought together in 'Accountability Hubs' – in French and in English – and will undergo a comprehensive training and mentoring programme, consisting of both online and in-person activities.
"The participants in the Accountability Hubs will jointly devise an 'Accountability Toolkit' to empower young people to take an active and effective part in democratic processes in their communities, aiming to improve democratic processes, accountability, anti-corruption efforts, transparency and youth inclusion", the foundation said.
Omokungbe, an experienced civic-tech development leader, social accountability professional, youth mobilizer and project management consultant, who is the only Nigerian appointed to the Hubs is expected to learn from the program and build the strategic capabilities required to make sustainable positive change happen and also build a relationship with other members from eighteen (18) African countries. He will also contribute his experience to the Hubs.
Congratulations to our leader!!!